NEW! SEADUCTION COFFEE TABLE BOOK!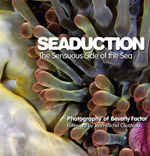 SEADUCTION The Sensuous Side of the Sea,is a stunning collection of photographs that captures the abstract side of sea life which explode with color, texture and usual excitement! There is nothing like it! The images are so otherworldly that they capture one's attention immediately. Nature's complexity is front and center in these incredible images of various underwater creatures that invite multiple viewings and interpretation.
Beverly's seductive images portray the ocean's magical world in intimate close-ups, featuring outrageous color combinations, mysterious patterns, textures, and sensual movements.
With a foreword by Jean-Michel Cousteau and endorsements by Oceana, Wyland, and Greg MacGillivray of Imax Films, this 176 page 12" x 12" hard cover coffee table book is a must have and will transform the way you look at the world beneath the sea!
Visit the Underwater store and order your signed copy today!
---